Learn Python Programming: The no-nonsense, beginner's guide to programming, data science, and web development with Python 3.7, 2nd Edition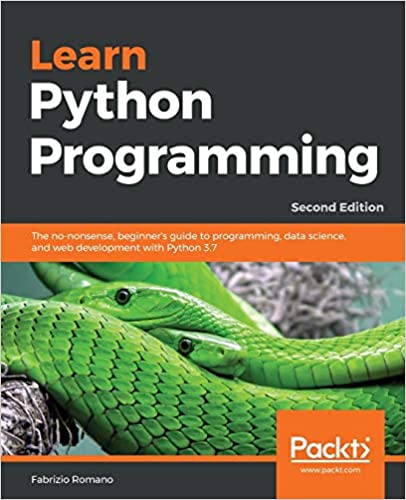 Get it FREE
---
Buy a copy from Amazon

---
Buy a copy from Walmart

---
Buy a copy from Flipkart
---
We have partnered with providers to bring you collection of books, When you buy through links on our site, we may earn an affiliate commission from provider.
Get free access to Learn Python Programming: The no-nonsense, beginner's guide to programming, data science, and web development with Python 3.7, 2nd Edition"
Learn the fundamentals of Python (3.7) and how to apply it to data science, programming, and web development. Fully updated to include hands-on tutorials and projects.
Key Features
Learn the fundamentals of Python programming with interactive projects
Apply Python to data science with tools such as IPython and Jupyter
Utilize Python for web development and build a real-world app using Django
Book Description
Learn Python Programming is a quick, thorough, and practical introduction to Python - an extremely flexible and powerful programming language that can be applied to many disciplines.
Unlike other books, it doesn't bore you with elaborate explanations of the basics but gets you up-and-running, using the language. You will begin by learning the fundamentals of Python so that you have a rock-solid foundation to build upon.
You will explore the foundations of Python programming and learn how Python can be manipulated to achieve results. Explore different programming paradigms and find the best approach to a situation; understand how to carry out performance optimization and effective debugging; control the flow of a program; and utilize an interchange format to exchange data. You'll also walk through cryptographic services in Python and understand secure tokens.
Learn Python Programming will give you a thorough understanding of the Python language. You'll learn how to write programs, build websites, and work with data by harnessing Python's renowned data science libraries. Filled with real-world examples and projects, the book covers various types of applications, and concludes by building real-world projects based on the concepts you have learned.
What you will learn
Get Python up and running on Windows, Mac, and Linux
Explore fundamental concepts of coding using data structures and control flow
Write elegant, reusable, and efficient code in any situation
Understand when to use the functional or OOP approach
Cover the basics of security and concurrent/asynchronous programming
Create bulletproof, reliable software by writing tests
Build a simple website in Django
Fetch, clean, and manipulate data
Who this book is for
Learn Python Programming is for individuals with relatively little experience in coding or Python. It's also ideal for aspiring programmers who need to write scripts or programs to accomplish tasks. The book shows you how to create a full-fledged application.
Table of Contents
A Gentle Introduction to Python
Built-in Data Types
Iterating and Making Decisions
Functions, the Building Blocks of Code
Saving Time and Memory
OOP, Decorators, and Iterators
Files and Data Persistence
Testing, Profiling, and Dealing with Exceptions
Cryptography and tokens
Concurrent Execution
Debugging and troubleshooting
GUIs and Scripts
Data Science
Web Development