The Azure Cloud Native Architecture Mapbook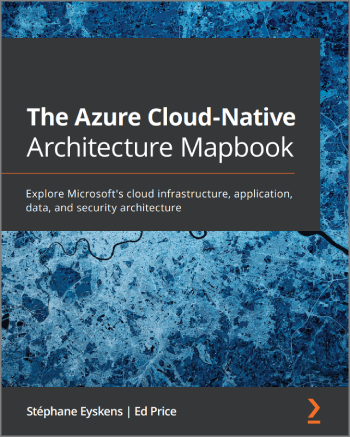 ---
Code
---
Get it FREE
---
Buy a copy from Amazon

---
Buy a copy from Walmart

---
Buy a copy from Flipkart
---
We have partnered with providers to bring you collection of books, When you buy through links on our site, we may earn an affiliate commission from provider.
The Azure Cloud Native Architecture Mapbook: Explore Microsoft Cloud's infrastructure, application, data, and security architecture
Improve your Azure architecture practice and set out on a cloud and cloud-native journey with this Azure cloud native architecture guide
Key Features
Book Description
What you will learn
Who this book is for
Table of Contents
Key Features
Discover the key drivers of successful Azure architecture
Implement architecture maps as a compass to tackle any challenge
Understand architecture maps in detail with the help of practical use cases
Book Description
Azure offers a wide range of services that enable a million ways to architect your solutions. Complete with original maps and expert analysis, this book will help you to explore Azure and choose the best solutions for your unique requirements.
Starting with the key aspects of architecture, this book shows you how to map different architectural perspectives and covers a variety of use cases for each architectural discipline. You'll get acquainted with the basic cloud vocabulary and learn which strategic aspects to consider for a successful cloud journey. As you advance through the chapters, you'll understand technical considerations from the perspective of a solutions architect. You'll then explore infrastructure aspects, such as network, disaster recovery, and high availability, and leverage Infrastructure as Code (IaC) through ARM templates, Bicep, and Terraform. The book also guides you through cloud design patterns, distributed architecture, and ecosystem solutions, such as Dapr, from an application architect's perspective. You'll work with both traditional (ETL and OLAP) and modern data practices (big data and advanced analytics) in the cloud and finally get to grips with cloud native security.
By the end of this book, you'll have picked up best practices and more rounded knowledge of the different architectural perspectives.
What you will learn
Gain overarching architectural knowledge of the Microsoft Azure cloud platform
Explore the possibilities of building a full Azure solution by considering different architectural perspectives
Implement best practices for architecting and deploying Azure infrastructure
Review different patterns for building a distributed application with ecosystem frameworks and solutions
Get to grips with cloud-native concepts using containerized workloads
Work with AKS (Azure Kubernetes Service) and use it with service mesh technologies to design a microservices hosting platform
Who this book is for
This book is for aspiring Azure Architects or anyone who specializes in security, infrastructure, data, and application architecture. If you are a developer or infrastructure engineer looking to enhance your Azure knowledge, you'll find this book useful.
Table of Contents
Getting Started as an Azure Architect
Solution Architecture
Infrastructure Design
Infrastructure Deployment
Application Architecture
Data Architecture
Security Architecture
Summary and Industry Scenarios
About the Author
Stephane Eyskens is an Azure Solution Architect and a Digital Transformation advocate, helping organizations getting better results out of their Cloud investments. As an MVP, he is an active contributor on Microsoft Tech Community and worked on multiple open source projects available on GitHub. Stephane is also a Pluralsight Assessment Author as well as the author of multiple books and online recordings.
Ed Price is a Senior Program Manager in Engineering at Microsoft, with an MBA in technology management. He leads Microsoft's efforts to publish Reference Architectures on the Azure Architecture Center. Previously, he drove datacenter deployment and customer feedback, and he ran Microsoft's customer feedback programs for Azure development, Service Fabric, IoT, Functions, and Visual Studio. He was also a technical writer at Microsoft for 6 years and helped lead TechNet Wiki. He is the co-author of five books, including Learn to Program with Small Basic and ASP.NET Core 5 for Beginners from Packt.